WePresent Caleb Azumah Nelson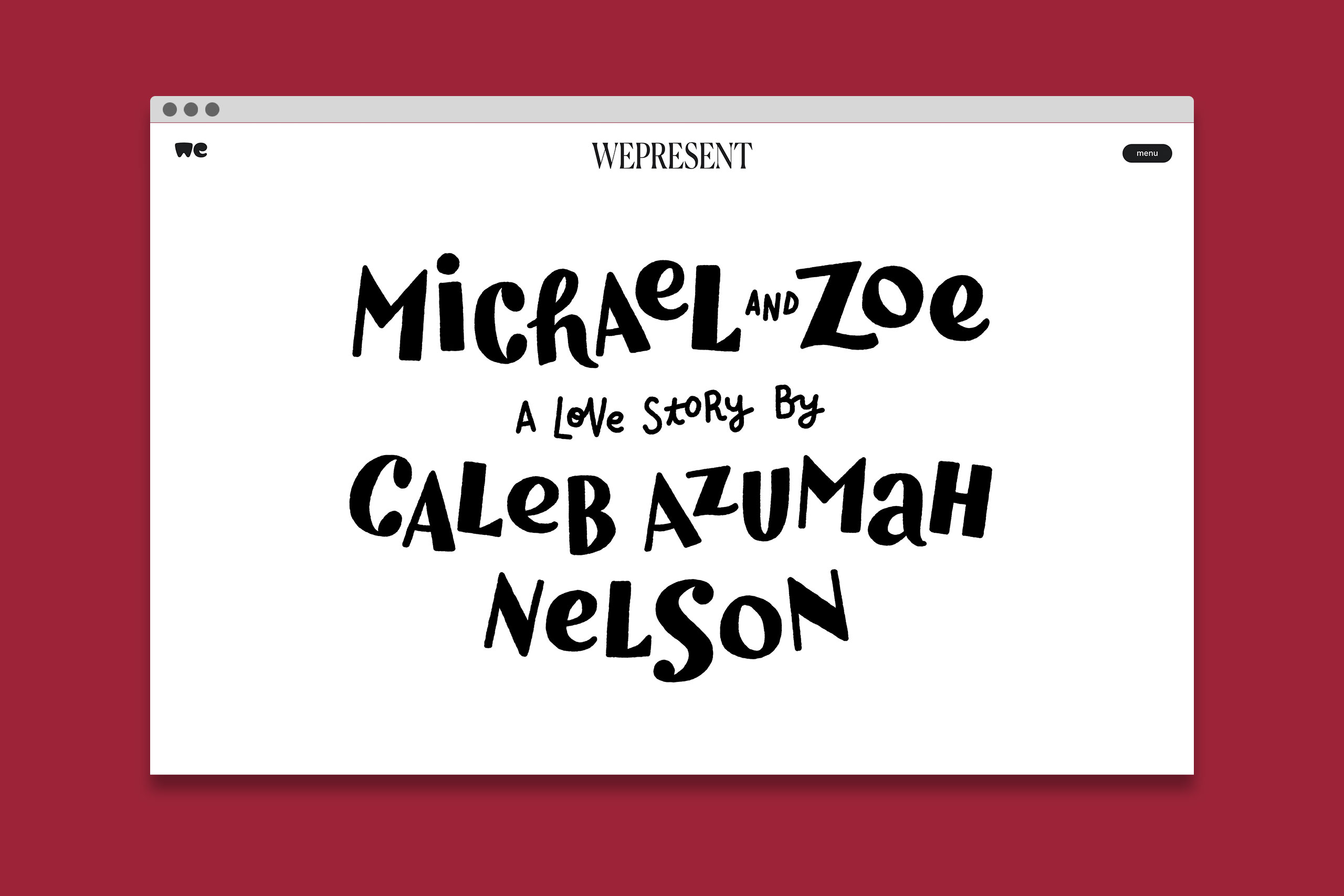 Overview
WePresent is the editorial site of WeTransfer, presenting work from a wide range of creatives. Literally is an expanding library of written commissions by some of the best writers in the world. For each story, different artists create hand-lettered quotes. I previously had the pleasure of illustrating a story by Sheila Heti. So I was delighted when WePresent asked me to help again, this time illustrating a love story by Caleb Azumah Nelson.
Caleb's text beautifully paints the excitement you feel in the beginning of a relationship. Music and dancing are key elements in the story. So I thought it would be great if they could inspire the lettering. Groovy, smooth, soulful songs (Al Green, Alicia Keys etc) made me think of curvy, seductive letters, all drawn as if dancing and flirting with each other.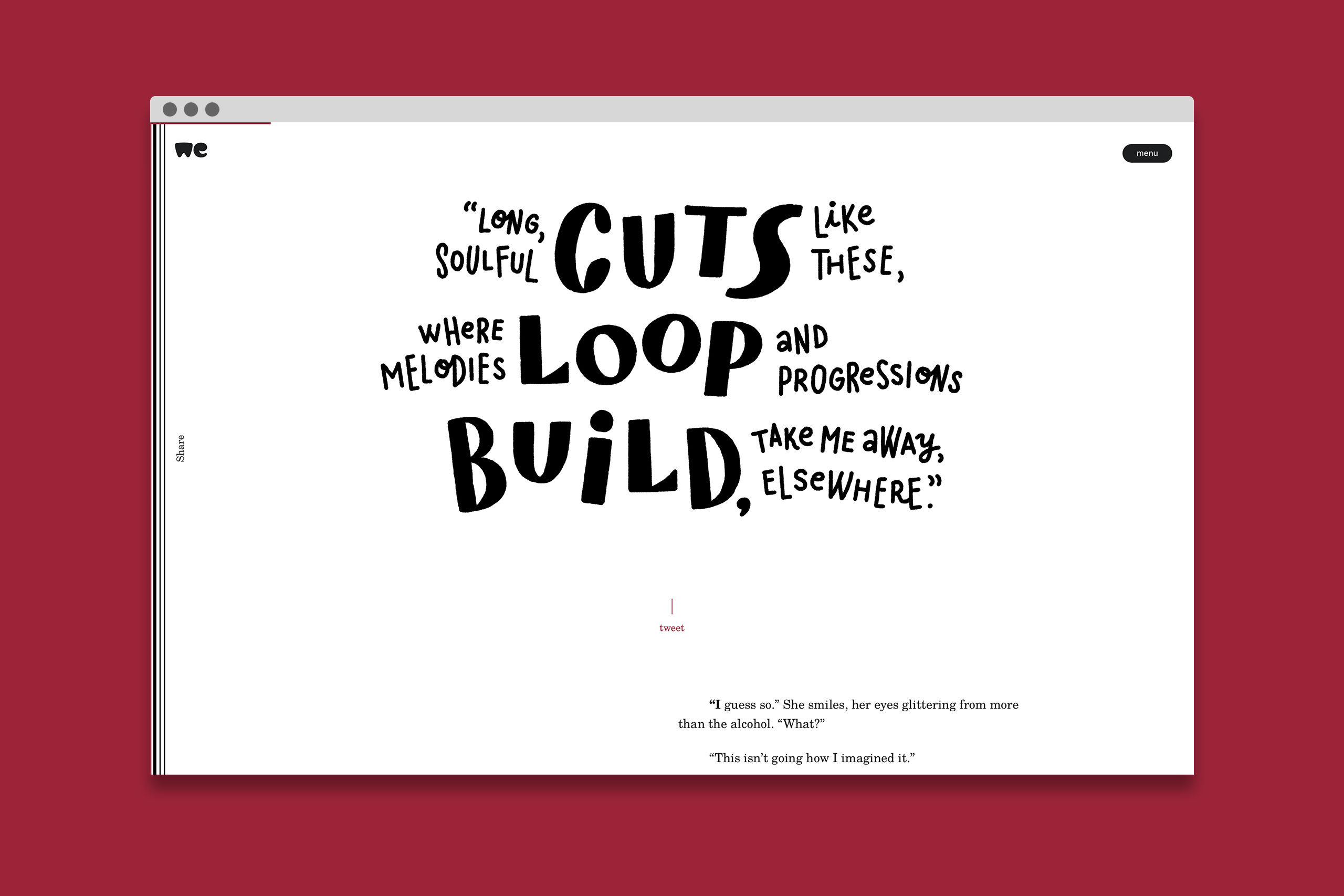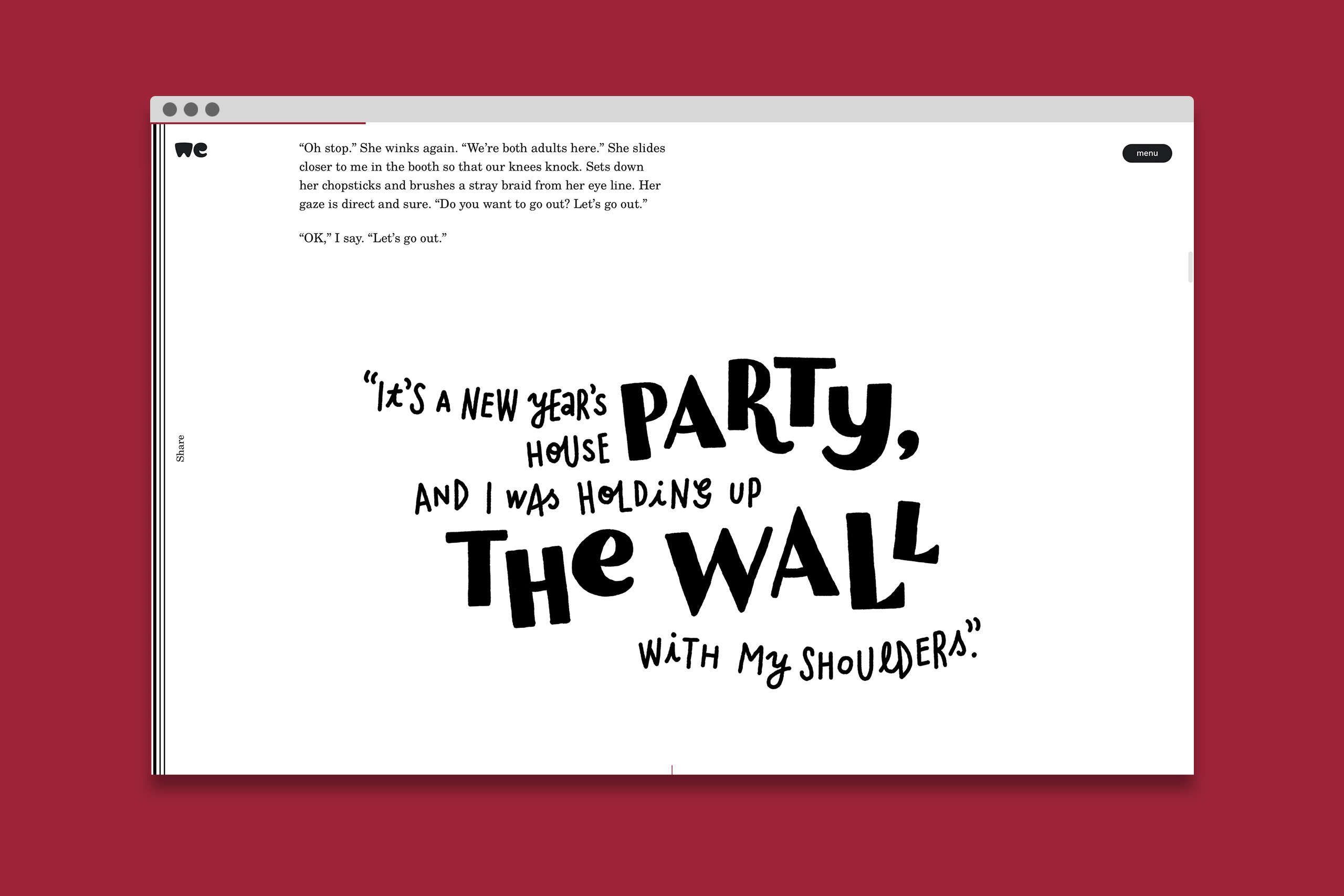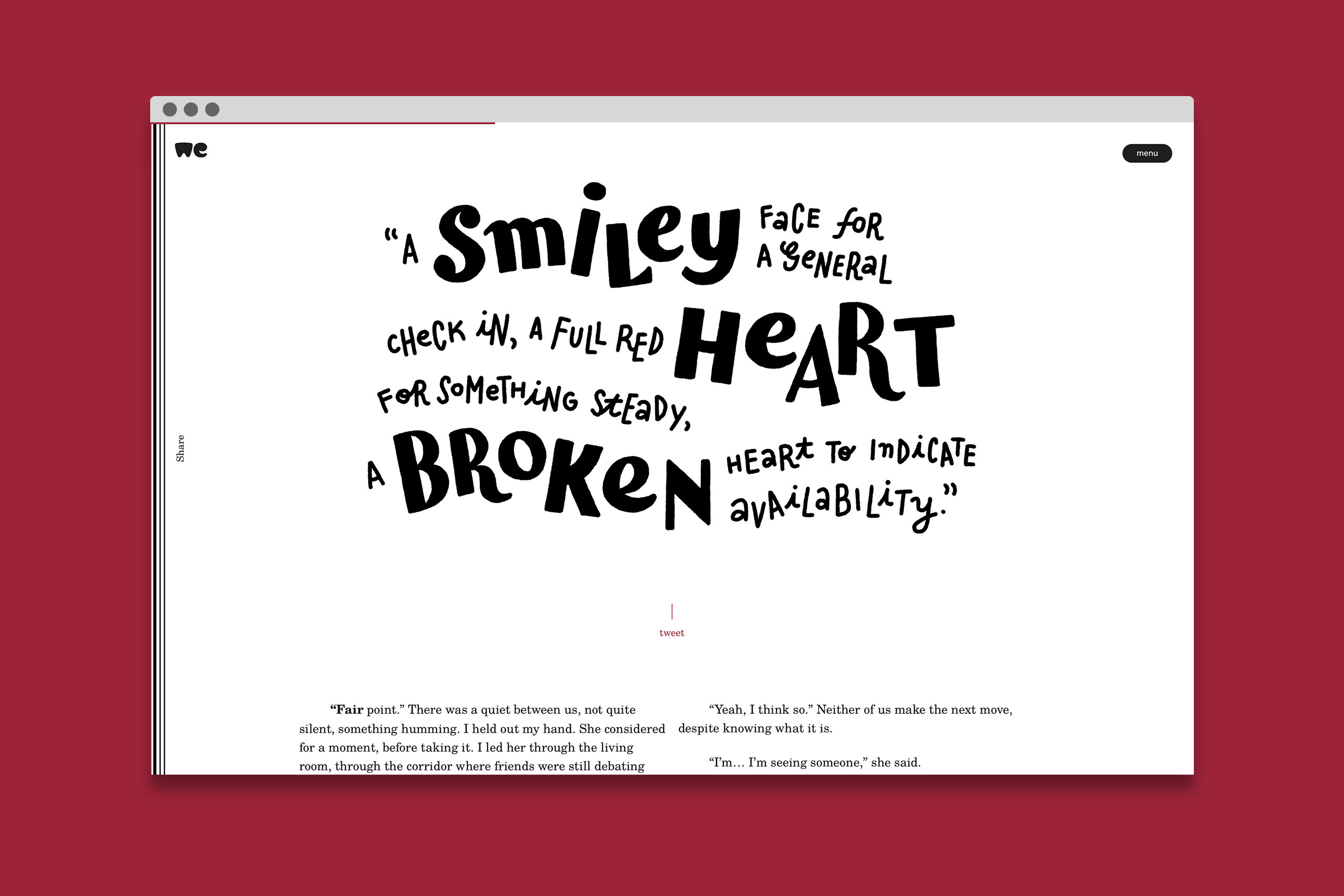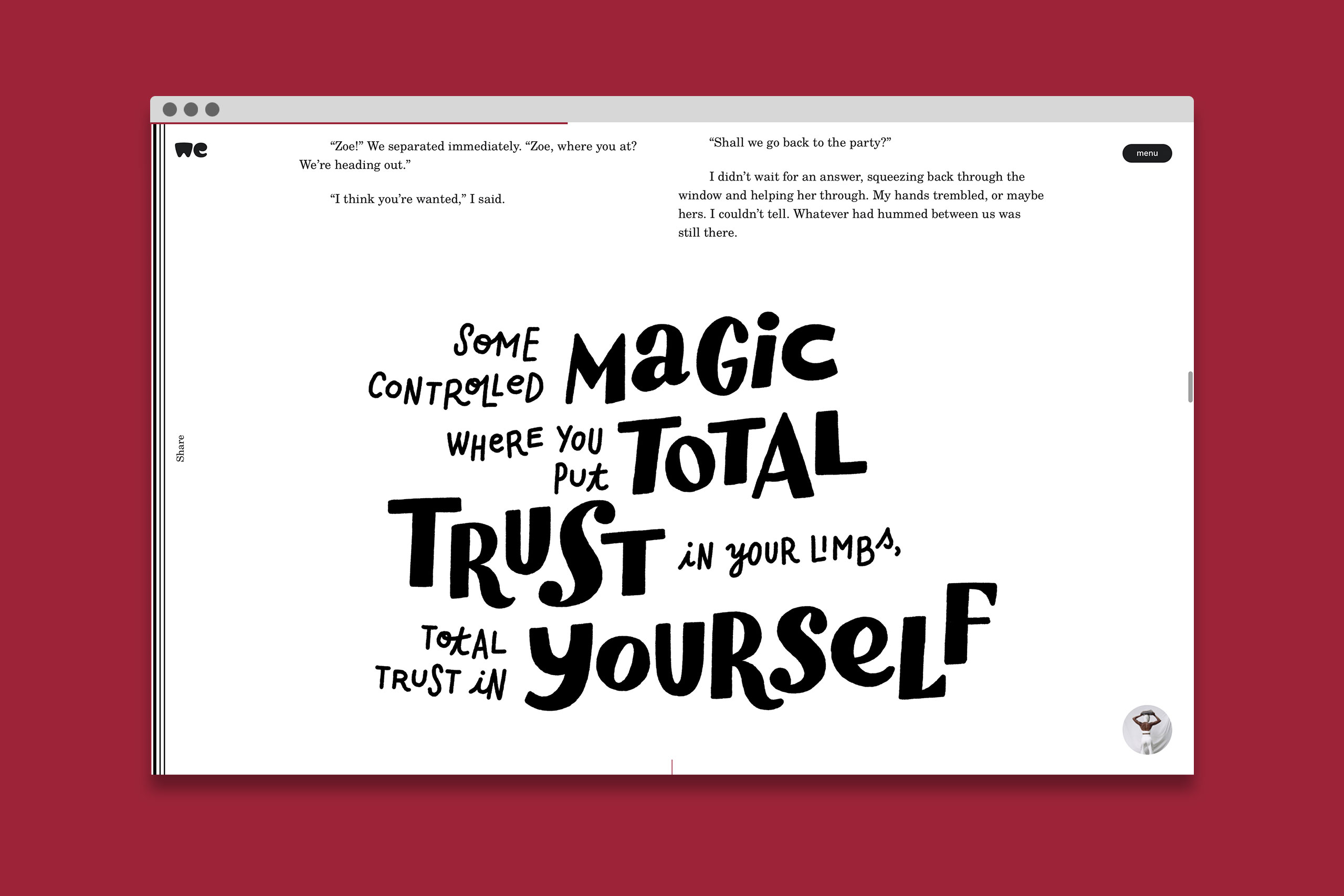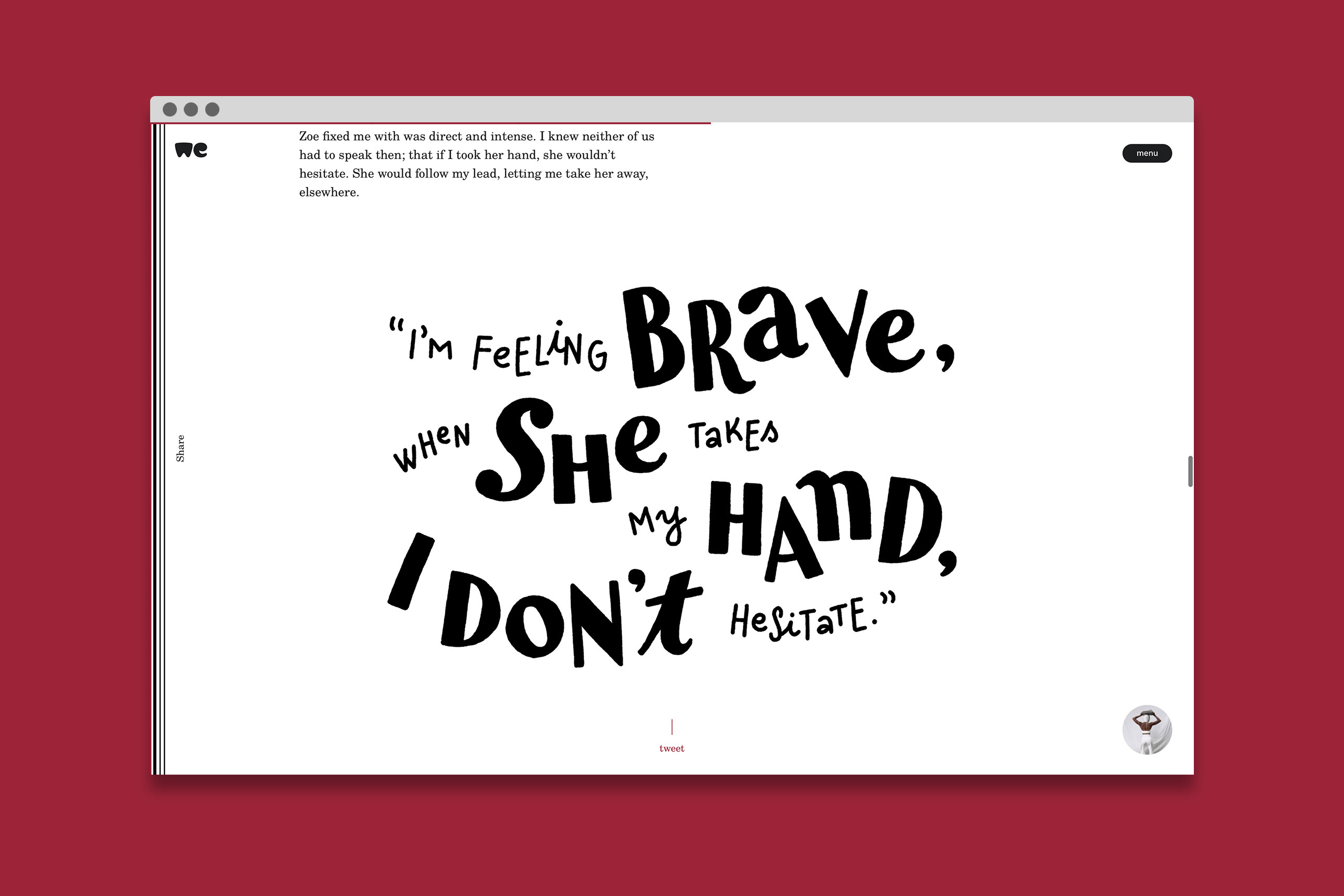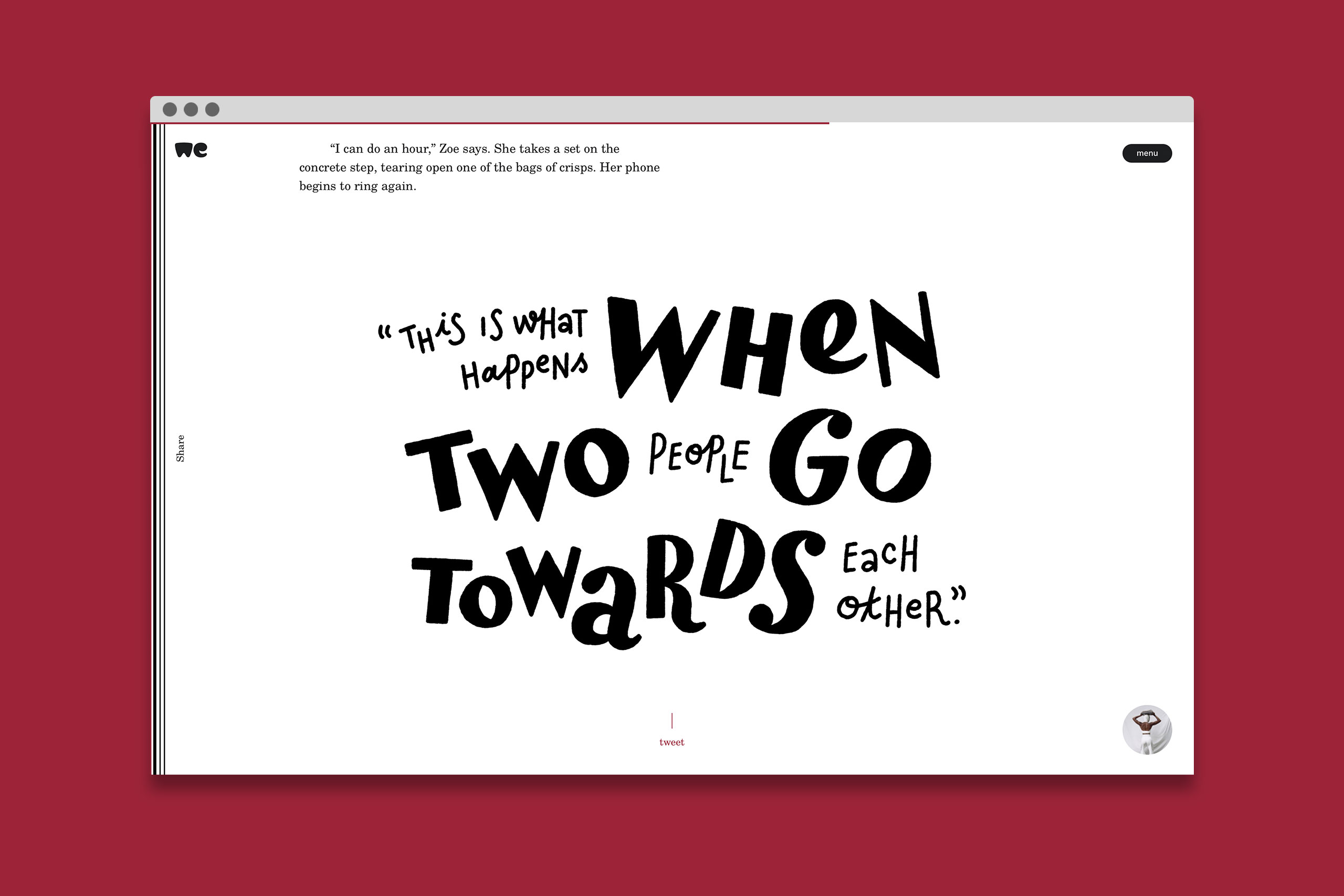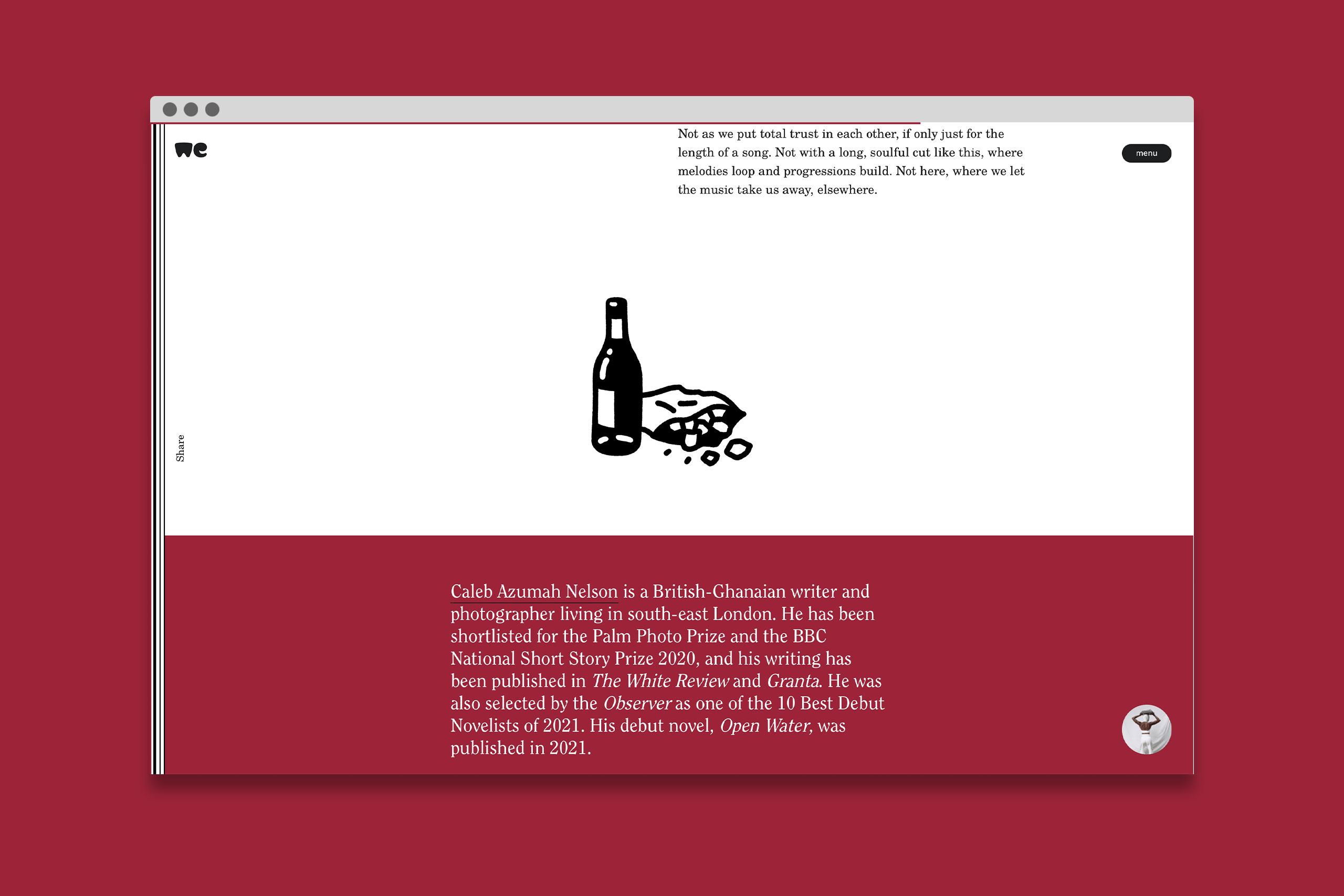 Process
When Suzanne (the WePresent editor) told me that music plays an important role in the story, it made me very happy. My mother is a music teacher, so music has always been a big part of my life. I read the story a few times and started drawing ideas, with the tracks mentioned in it on repeat. Some of them were already familiar from the BBC 6 Music shows I listen to regularly (Cerys Matthews' and Huey Morgan's especially).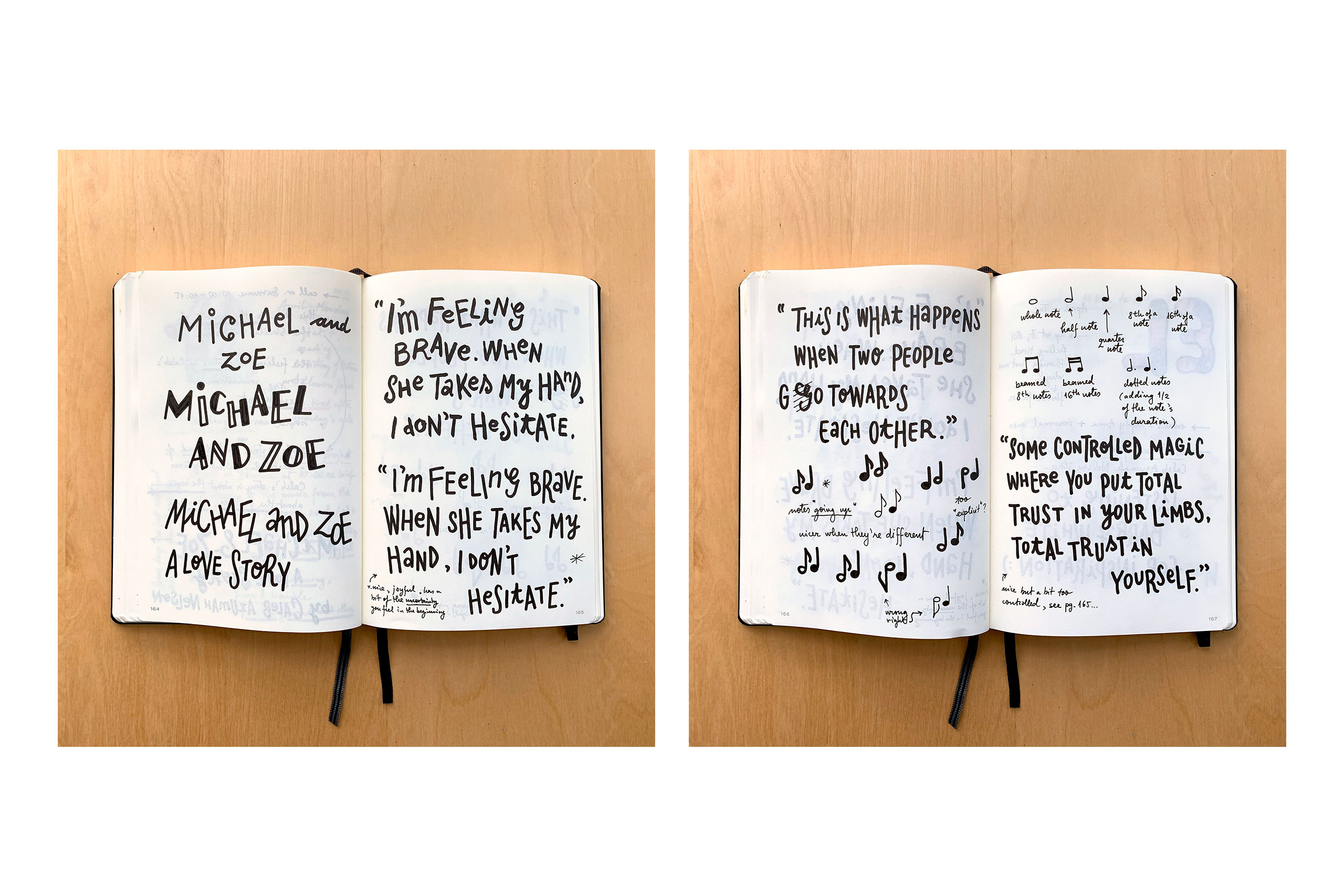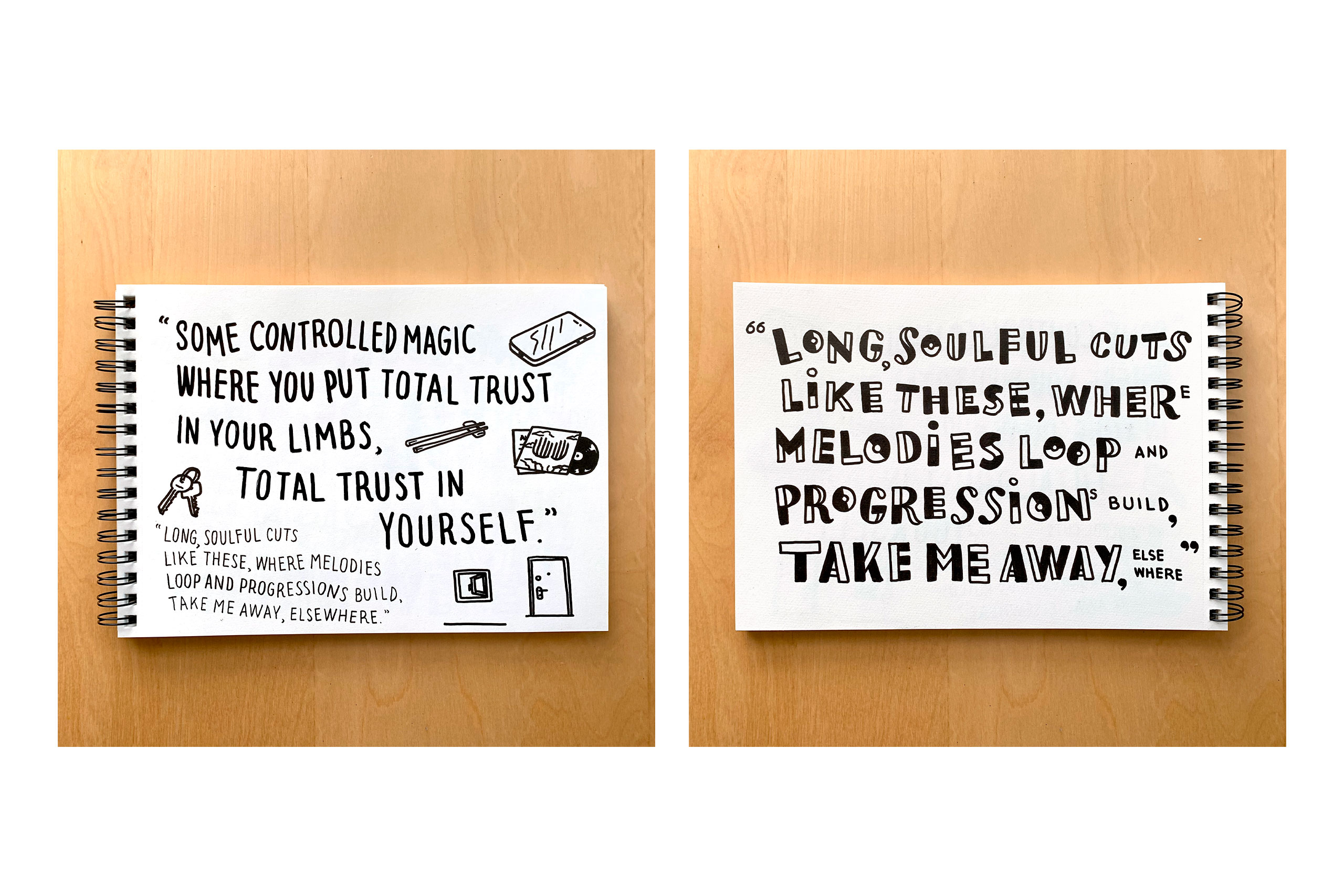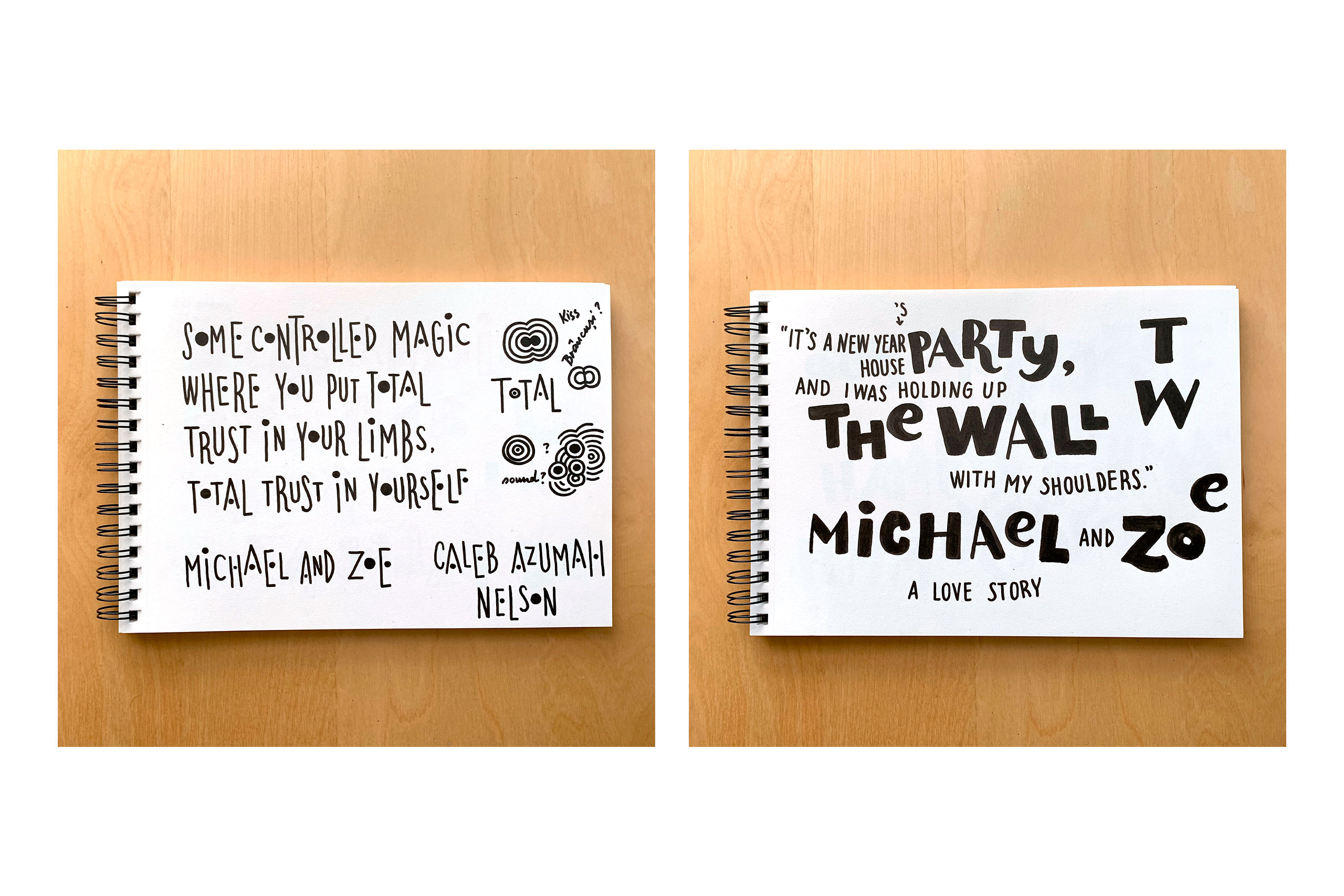 We discussed four different routes. For the first one, the letters looked like dancing together, some of them very close to each other, some already touching. Uppercase and lowercase letters were mixed, like different instruments playing a song all together.
For the second route, the letters would change size all the time, suggesting a song's pitch going up and down. Dots replaced certain parts in some of the letters, suggesting beats (sound beats, or heart beats). They could also suggest stars in the sky, or atomic particles, gravitating towards each other.
For the third route, the letters would have seductive, curvy shapes, some "full" and some "empty" (similar to musical notation). Together with their up-and-down placement on the baseline, the letters would create a playful rhythm and a sense of surprise — just like you never know what to expect in the beginning of a relationship.
For the fourth route, text lines would flow like waves, similar to a couple dancing. At the same time, keywords were emphasised through size, similar to how in a song certain parts (solos, chorus, ending etc) are louder, or draw attention in some way.
The final artwork was based on route four, with some details taken from route one.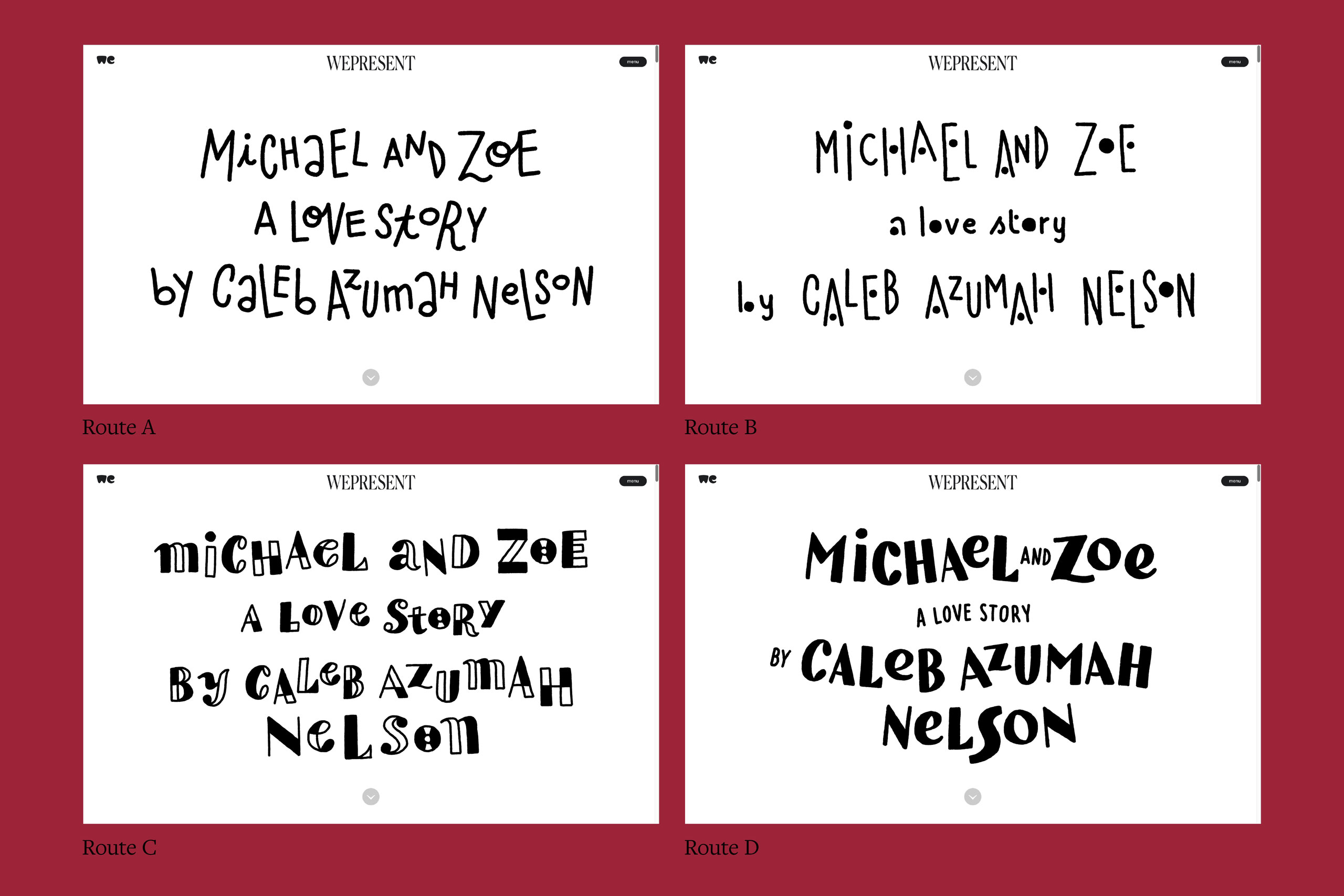 Each Literally piece ends with an asterisk usually. But an illustration can be used as well. It can be anything, as long as it's relevant. So I had a lot of fun drawing several ideas based on small details from the story. In the end we loved the bottle of wine and bag of crisps the most. Read the story to find out why :)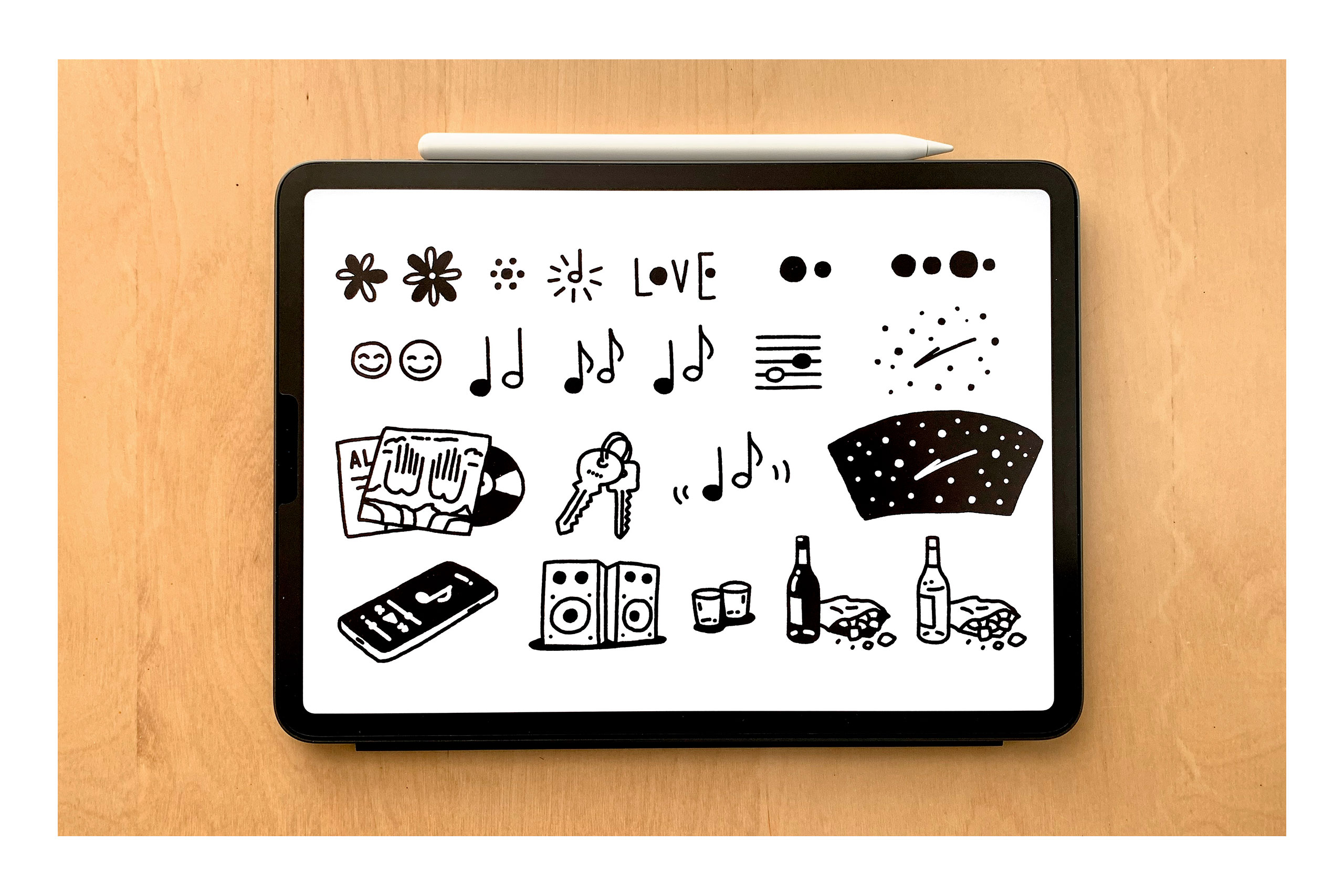 Credits
Working with Suzanne Tromp, Senior Commissioning Editor WePresent at WeTransfer. You can read Caleb Azumah Nelson's story on the WePresent website.